Fri, 25 July 2014
Gorilla Airsoft Radio #94
On this episode we discuss some news items and our main topic is Airsoft 101, common mistakes new players make. Sit back, relax, and crack open a cold one. Enjoy!
---
Sat, 5 May 2012
This episodes Hosts are Beast and Willi
Recorded May 4th 2012
Station News
Listener stats
Listener Email
Vietnam Airsoft video sent to us by listener Jamie http://www.youtube.com/watch?v=LkDQP_ku6TQ&feature=plcp
<iframe width="560" height="315" src="http://www.youtube.com/embed/LkDQP_ku6TQ" frameborder="0" allowfullscreen></iframe>
News
R HOP
KWA Tokarev and LM4s are almost here
www,ops-center.com
Airsoft Darwin Awards
http://www.ksee24.com/news/local/Oakhurst-Man-Arrested-After-Brandishing-an-Airsoft-Gun-149544305.html
Gun Reviews
S&T Tavor
Elite Force G36C
Category:
general
-- posted at: 8:00 PM
---
Fri, 20 April 2012
Thats right folks we're duting off the mics and preparing to record a new show. Hopefully it'll be available for download by Sat 4/21.
Category:
general
-- posted at: 2:19 AM
---
Fri, 16 December 2011
Category:
general
-- posted at: 9:36 PM
---
Wed, 12 October 2011
Due to the fact that a some of the Gorilla Airsoft Radio Crew will be attending John Lu's "Operation Route 66", we will be postponing the next show until October 28th.
Category:
general
-- posted at: 10:14 PM
---
Wed, 12 January 2011
Gorilla Airsoft Radio #24
After the holiday break we return with a vengence. We've got a full house with four mics running. On this episode, our first anniversary show, we discuss a new UAV, the Magpul Masada ACR, and and more info on the Contour HD Helmet Cam. Enjoy.
---
Tue, 21 December 2010
Gorilla Airsoft Radio #23
Well, we're a week late but better late than never. This week we discuss more Black Ops Weapons faux pas, a Co2 upgrade for the A&K SVD, and our review of the Echo 1 M28.
---
Sun, 28 November 2010
Gorilla Airsoft Radio #22
This week we learn how to play in the rain. Joker is back and tells us just how much he likes WE. We find out a few facts about our international listeners and that we're huge in Texas. Plus all the news and more. Happy listening.
---
Sat, 27 November 2010
Listener Email
From Jamy in Norcal
"I was just watching NBC nightly news and they were interviewing a guy while in Iraq and when he was home, while they where in Afghanistan they filmed American soldiers in combat wearing multicam... And when they interviewed him while he was home In Ohio he showed his new uniform that I have never seen before. It looks like acu with some rust colors thrown in. I took some pictures of them and attached them to the email.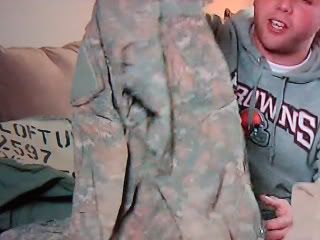 Also sent to us from from listener Jamy, check out this new Barrett M82 from Snow Wolf
http://shop.ehobbyasia.com/sniper-rifles/snow-wolf-barrett-m82-sniper-aeg-rifle-version-2-sw-02.html
Check out this great article about the furure of clones versus licenses in Airsoft from Thumpys 3D house of Airsoft.
http://www.popularairsoft.com/keepin-it-real-fake-getting-grips-reality
Airsoft Innovations has a new commercial covering Tornado grenades and what look to be an on-field propane refill device.
From Airsoftnews.eu
Echo1 USA: M240B Coming Soon
Main topic for this week "Playing Airsoft in the rain".
Games
From Jamy in Norcal

AIRSOFT CQB ARENA TOURNAMENT!
~~~~~~~~~~~~~~~~~~~~~~~~~~~~~~~~~~~~~~~~~~~~~~~~~~~~~~~~~~~~~~~~~~~~~~~~~~~~~~~~

Airsoft Tournament December 11th & 12th!We are opening our airsoft CQB arena with
a 2 day triple elimination tournament. Yep, that's right - a triple elimination
tournament For players who are not on a team - dont worry just $25 and we will
assign you to a team. See below for more information:
-Tournament times are Saturday and Sunday from 10am-5pm
-Team size 4-6 with a fee of $25 per player
-Tournament format is Team Elimination with 10 min max
-Minimum age of 14
-350 FPS
-Rental package for tournament is only $30
-Rental package includes: mask, AEG, tact vest and 1000 rounds
-All skill levels accepted
-Registration Deadline is December 9th at 10pm
-Eye protection mandatory and only semi-auto allowed
-Prizes given for 1st, 2nd and 3rd places
Go to our website now to get more information and register. You don't want to miss
being a part of history. The first ever airsoft event at Escape.
www.escapesonomacounty.com
~~~~~~~~~~~~~~~~~~~~~~~~~~~~~~~~~~~~~~~~~~~~~~~~~~~~~~~~~~~~~~~~~~~~~~~~~~~~~~~~
Category:
general
-- posted at: 3:53 AM
---
Sun, 14 November 2010
Gorilla Airsoft Radio Episode #21
This week the topics of discussion are dominated by Call of Duty, Black Ops, and it's relationship to the Airsoft world. Plus, we cover Zombie Targets, a new video from Dr Airsoft, and more Cybergun news. What more could you ask for?
---